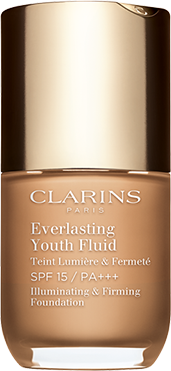 NEW
Everlasting Youth Fluid
Illuminating & Firming Foundation
Clarins expertise
The best of make-up and Clarins skincare concentrated in one foundation
A radiant even complexion that glows all day
Long lasting luminous colour
Expert make-up by Clarins
Clarins has added the new Skin Tone Optimising complex which blends pigments, rosy pearls and soft-focus powders that create all-day luminous colour and an even complexion.
Organic oat
A brand new texture for a remarkably sensory experience...
Everlasting Youth Fluid has a creamy yet lightweight texture that astounds the senses. Formulated with konjac microbeads, nourishing organic argan oil and firming organic oat sugars, your skin looks firmer and smoother.
Everlasting Youth Fluid is for all women.
Available in 24 shades.
Expert skincare by Clarins
Your illuminating foundation.
1
RADIANCE
The foundation is enriched with red jania extract which smooths the skin for everlasting radiance.
2
LUMINOSITY
Enriched with chicory which visibly firms and illuminates the skin.
The skincare experts at Clarins Laboratories conducted research on the skin's age-related decline in radiance and luminosity.
Can you guess what causes it?
The culprits:
wrinkles deepen over time, and the collagen fibre network is less dense.
Backed by our skincare expertise, we found the best active ingredients in nature to create Everlasting Youth Fluid.
Ready to learn the real secret?
Chicory for firm and luminous skin
We chose this plant ingredient by looking at the way plants photosynthesise.
Why chicory?
Clarins Laboratories was intrigued by its ability to boost the synthesis of collagen.
This benefits the skin by increasing:
+ Firmness
+ Luminosity
+ Radiance
How about a quick anecdote about chicory?
Also known as the "blue daisy," this pretty plant faithfully follows the sun's path from dawn until dusk, down to its last petal. And just like a three-act performance, it changes colour depending on the time of day: blue in the morning, light blue during the day, and white at night as it closes up when the sun dips below the horizon.
Red jania extract for smoother more radiant skin
A well-known ingredient at Clarins for its tendency to promote skin exfoliation.
Why red jania extract?
This plant ingredient boosts cell renewal to help smooth skin.
This benefits the skin by making it:
more radiant
more polished
more refined
Thanks to these two active ingredients working on both levels of the skin, you only need a few drops of Everlasting Youth Fluid to maximise your skin's luminosity and radiance.